Bulletin Board Information New Species
Edit
Gau's Fazenda Region Imported a New species of crop. Tell Lihu the tenant to experiment with the seed.

New Species
Edit
Gau's Fazenda Region imported a new species of crop. Tell Lihu Tenant to experiment with the seeds.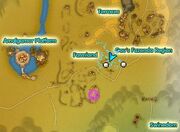 Quest Ender: Caap Land Lihu - Tenant (656, 719)

Experience: 1,500
Items: Unknown(random Quest item will be given or it will give nothing).
Ad blocker interference detected!
Wikia is a free-to-use site that makes money from advertising. We have a modified experience for viewers using ad blockers

Wikia is not accessible if you've made further modifications. Remove the custom ad blocker rule(s) and the page will load as expected.