Exchange the Bag token
Edit
Do not take the"Expand bag 1" Quest untill you have either Completed the Exchange the bag token" Quest, or Purchased a Red Banded Yarn From the Heaven Repository
If you do End up geting "Expand bag 1", you will not be able to get the "Exchange the bag token Quest".
You get the Bag Token from Gift pack as seen in the picture Below
Quest Information
Edit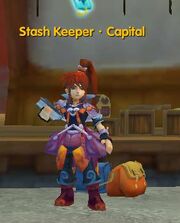 Summary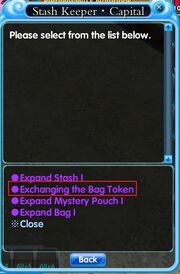 Travel to Pokari City near 492, 464, After Obtaining the Bag Token
Speak to Stash Keeper - Capital.
See Stash Keeper - Capital for your reward.
Obtained from
Requirements
Reward
30 Extra Slots inventory Space
Dialogue
Talking to Stask Keeper: "Ah, So Ziola gave you a Bag token? Just Give me the Token and i will expand your bag to 30 Slots."
Answer: No problem
Talk to him again: Quest Finish
Ad blocker interference detected!
Wikia is a free-to-use site that makes money from advertising. We have a modified experience for viewers using ad blockers

Wikia is not accessible if you've made further modifications. Remove the custom ad blocker rule(s) and the page will load as expected.